S7
Welcome to S7!
S7 is a great group of year 11 and year 12 students. We have 5 boys and 6 girls in our class. The students in S7 follow the N.Ireland curriculum at a level appropriate to their needs.

Our curriculum involves developing teaching and learning in the following areas,
English with Media
Numeracy with Financial Capabilities
Learning for Life and Work (including Employability, Local and Global Citizenship and Home Economics)
Environment and Society (including History and Geography)
Science and Technology
The Arts (including Art & Design, Music and Drama)
Physical Education
Personal Development
Religious Education
Using ICT
We strive in S7 to further develop our students' independence and self help skills as much as possible, helping them to prepare for life after school.
Sensory activities are also used in S7 to help prepare our students for learning and to help aid our students health and well-being.
We hope you enjoy exploring S7's class page and we look forward to keeping you updated of what we get up to throughout the year.
Class Photograph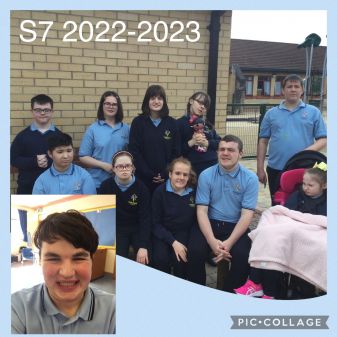 &nsbp;
Kilronan School, 46 Ballyronan Rd, Magherafelt BT45 6EN Phone: 028 7963 2168