J3
Hello and welcome to our class webpage. We are a busy class of nine pupils. We access the NI Curriculum through play based learning and a multi-sensory approach. Please have a look through our photos to see our super learning journey in J4.
News
19th Dec 2022
J3 have been very busy this term enjoying our Fairytales topic. We focused on the...
2nd Oct 2022
We have been busy settling into our new classroom, enjoying play with our friends...
Latest Photographs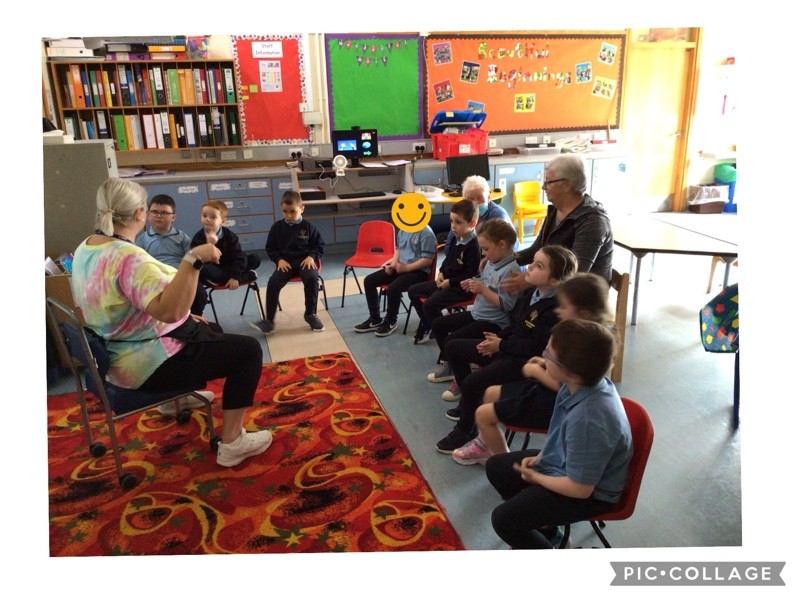 Great shared attention and participation at Circle Time.
We are learning to move safely in the space during PE.
Story time brings lots of opportunities for social connection and developing literacy skills.
We are learning to line up for the bus.
We find our own footprint visuals to help us know where to stand.
Opportunities to develop language and imaginative play at the Small World area.
We develop turn taking skills and communication during a social game of ""It's raining on me" in our Attention Autism session.
I am anticipating the rain coming down on me!
I'm being brave and having a go on the Trim Trail outside.
The zip line is very popular.
We have fun while developing our co-ordination, gross motor skills and shoulder strength and stability (all super skills for writing).
We are showing our excellent waiting skills.
Great work with balancing on the equipment!
I did it!
I'm exploring the Water Wall and learning all about gravity.
Accessing the trampolene is great fun and also provides sensory regulation through movement.
Amazing social connection and developing confidence in Soft Play.
What a smile!
1, 2, 3….. jump!
You can see how much we love Soft Play.
Creativity and independence for an Autumn art activity.
I'm having a go using scissors to cut for my Autumn art.
Working together and sharing space and resources.
I'm exploring the sensory box to help me gain confidence in my new room.
Super concentration on our art.
Developing fine motor skills through cutting.
Enjoying the Wheeled Vehicles together.
Developing numeracy at Table Top area.
Working hard on individual numeracy skills.
An opportunity to develop mark making by painting my feet- it is very tickly!
Counting fish using Numicon at the water tray.
Follow me!
Working together, problem solving!
Developing balance and co-ordination.
Focusing at Table Top play.
Super engaging at Construction Play.
Fun and games at the Dramatic Play area.
I'm enjoying play and keeping my apron on!
Creativity and fine motor skills at the Dough table.
I love to draw during leisure time.
I painted Miss Reid's foot first, to help me gain confidence…..
Look! I overcame my fears to have mine done!
Kilronan School, 46 Ballyronan Rd, Magherafelt BT45 6EN Phone: 028 7963 2168