J4
Hello and welcome to our class webpage. We are a busy class of nine pupils. We access the NI Curriculum through play based learning using a topic approach. Please have a look through our photos to see our super learning journey in J4.
Latest Photographs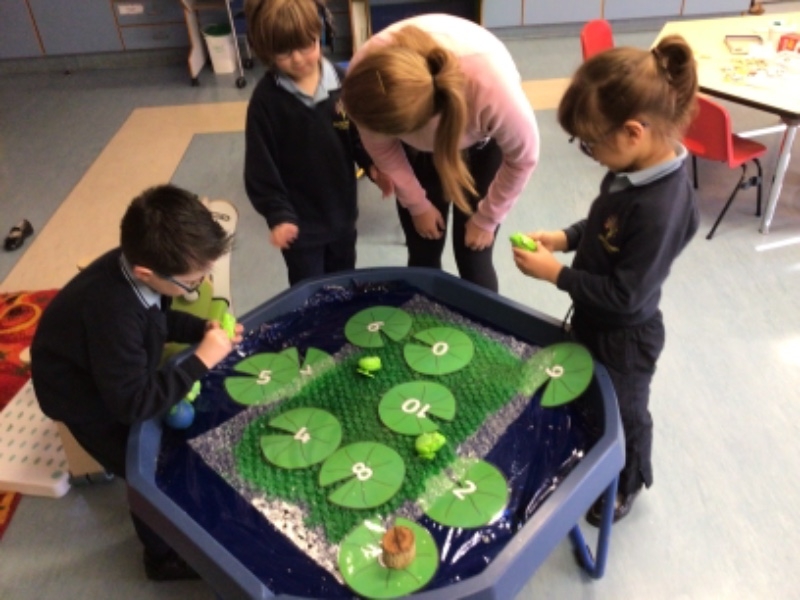 We love the jumping frogs. We are developing finger strength by winding them up.
My shop is open!
J4 boys work hard and play harder!
Such super focus on this task.
We are using our fine motor skills to build flower patterns.
I am ordering numbers and problem solving with this tricky stacking tower.
We are sharing space and working hard.
Brilliant job sorting for colours.
Look what I made!
Great fun at the frogs tuff spot.
I'm working hard at tabletop.
Outdoor water play.
Hard work climbing the ladder brings great joy down the slide!
"Can you find me?"
"Watch out, car coming through!"
We are exploring forces and gravity by sending wheeled vehicles down the slide.
I'm practising my listening skills by matching animal noises.
I'm enjoying water play.
"I can make it jump for you!"
Building on number sense while playing with the frogs.
We are being creative with play dough.
"How can I help you?"
I'm making a muddy puddle for our Spring display board.
Look at my lovely orange welly boots.
I chose bright yellow for my welly boots.
I want a textured muddy puddle.
Brilliant art work here for the Spring display.
Spring is a good time to try new things. We are both trying new foods at dinner time.
I'm helping to create a large colourful umbrella.
Some morning literacy work before I get busy in the garden centre.
Super morning work.
We worked together on the display.
The umbrella is nearly finished.
I'm pasting glue on my welly boots.
Enjoying watching water move through the water wheels.
Excellent focus on literacy and communication work.
Amazing number skills being developed here with numicon.
I am working really hard at this numicon task.
I am learning about the frog life cycle.
Wonderful focus being developed during the blossom tree activity.
We are all anticipating what will happen next.
Look, Miss Reid is a butterfly!
Flap you wings, flap your wings….
Fly away!
Another butterfly in J4.
I loved the butterfly activity in social skills group.
I can flap my wings.
Exploring the till in the garden centre.
Exploring play dough.
Building focus and a chance to develop hand strength and coordination with play dough.
Enjoying the cafe area at our garden centre.
We are sharing space and resources.
Just look at my super work!
"Hello" - developing imaginative play in the garden centre.
Oh I like the look of the new planting sensory tray.
We are matching number ducks to numicon shapes.
"Let me see that one please"
J4 boys exploring the planting sensory tray.
I enjoy watching the soil as it falls from the trowel
"Hello". Developing imaginative play skills in the garden centre.
We are all full of anticipation for this activity in social skills.
I think I know what it is…..
Look, it is a rainbow!
I am working hard on class jobs. I am counting and recording dinner numbers.
Busy being creative and working independently.
Cafe role play is so much fun. It is a great opportunity to develop our communication skills.
"Can I get you anything else?"
Class Photograph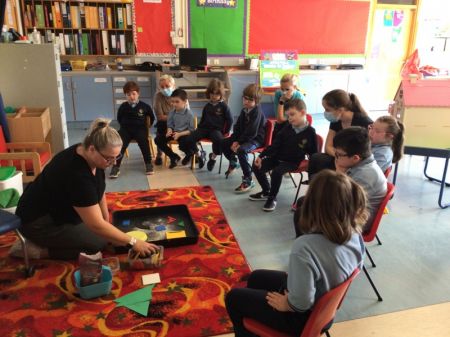 &nsbp;
Kilronan School, 46 Ballyronan Rd, Magherafelt BT45 6EN Phone: 028 7963 2168